Products
---
Custom Stainless Steel Wine Tanks & Fermemtors
Our tanks a fabricated using the finest material available such as SVS valve and Zorzini and Laveggi man-ways to your specifications. The tanks are cut on a CNC machine with very tight tolerances allowing the weld beads to only be 1/8" wide. All interior and exterior joints are ground to insure easy cleaning and sanitation.
Winery Equipment
We carry a full line of winery equipmet, including; Horizontal Membrane Presses, Bladder Presses, Hi-tech Wine and Juice Filter System, Semi-Automatic Fillers, botteling equipment including Stalvin cappers, corking machines along with valves, fittings, strainers and custom adaptors.
Custom Valve and Fittings
Do you need valves or fittings that allow you to adapt from one type of system to another? If so we will work with you.
About Us
---
Mio Vigneto Products was founded in 2005 to import high quality, custom wine tanks, fermentors and other stainless steel products and equipment for the wine, beer and olive oil producers.
Our tanks are made with the highest quality materials manufactured in Europe. All the valves, fittings and man-ways are manufactured in Italy and Slovenia by Zorzini, Laveggi, Jaklic and SVS. All tanks are individually engineered to insure integrity. All seams and joints are TIG welded to insure perfect and smooth interior surfaces. Any protruding welds, both interior or exterior are ground smooth. There are no sharp corners to catch vegetative matter or residue, all ferrules and fittings have radius connections.
There are no limitations to tank volume, height, diameter, shape, size or location of ports, type, size or location of man-ways along with any other feature you may require.
If you don't see something in our catalog or website that you need, just drop us a line and we will work with you and have the factory write you a proposal.
Mio Vigneto Products also has a research and development team working on leading edge technologies to help the winemaker always have a vintage year every year.
Member of the BBB
Custom Closed Top Tanks

---

We carry a full line of custom closed top storage tanks and fermentors from 100 liters to 20,000 liters. This is a picture of a custom 3000 liter closed top tank with a 4:1 height to diameter ratio, man-way door on rails, racking man-way, 10% sloped bottom and cooling jacket that covers 70% of the wall surface for cold soaking, fermentation and cold stabilization of white and rose wines




Semi Automatic Pump-Over and Punch-Down Fermentors

---

Custom pump-over and punch-down fermentor from 1,000 to 20,000 liters. This is a picture of two four ton automatic pump-over fermentor install at Occasio Winery in Livermore, CA. Key Benefits Total Control of fermentation environment Sanitation Limited exposure to bacteria, viruses and other contaminants Controlled pump over timing and duration for maximum extraction Must temperature control Micro-oxidation control Lower workman's comp liability due to lifting heavy hoses or punch down tools, using ladders to do said work and exposure to large volumes of CO2. Fermentors built to customers specifications Built of the highest quality materials and workmanship All welds are ground smooth to insure sanitation Only the highest quality man-ways, valves and controls are used Results we have seen at the Occasio Winery: Increased polymeric pigments Complex flavors and aromas Richer, supple and integrated tannin structure Reduced monometric anthocyanins No cooked flavors from overripe grapes with raisins "We have found a profound difference in structure, bouquet, color; tannin's and taste resulting in a finished product superior to that of the same grapes fermented by traditional methods in micro-bins or open top tanks." John Kinney, Winemaker Occasio Winery Livermore, Ca



The most technologically advanced filter system for small to moderate size wineries
---
Process filtering through ceramic disks with at low pressure process and constant flow rate. Nominal pore size of 0.2 microns, without use of filter aids such as for example,diatomaceous earth. The product to be filtered passes through the filter medium leaving the outer surface of the solid components to be retained, the permeated liquid within the disks is conveyed through a central manifold. The filter disks are maintained in constant rotation to allow a self-cleaning of the outer surface of the discs themselves, in this way is guaranteed a filtration flow rate constant and long lasting. It 'also provided a countercurrent washing (back-wash) with the same product filtered, always to keep clean the filter surface.
Theceramic filter ROCKET is suitable for filtering products such as for clarification of juice, must or wine lees flotation, filtration residues by tangential filter ... It does not cause any heating or denaturation of the product, loss of color or alcohol, thanks to a filtering process at low pressure and to a filtering stabilized surface. Low power consumption, compact size, and ease of use and complete autonomy in the process is assured.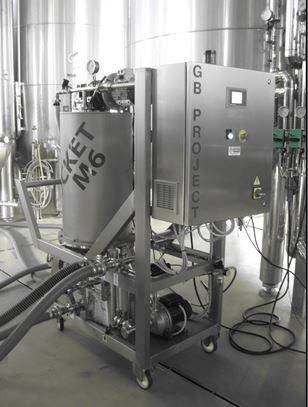 News Archive
Introducing a new line of affordable horizontal Membrane Press
26 April, 2013
---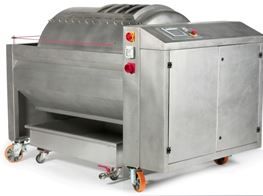 Horizontal Membrane Press
Standard Equipment:
Fixed drum for pressing
Juice collection pan with wheels
Safety cord
Vacuum pump
Central filling of must on 1200 Liter and up
Single door on 500, 650, 850 and 1,400 Liter units others have two doors
Optional Equipment:
Additional doors for closes system
Central filling of must for small presses
220 volt or 480 volt operation
Fixed controll panel
Extended legs to fit you're receiving vessels
Compressor
Closed drum for vinification
For more information, or to request a quote, please contact Dwight Busalacchi at (415) 531-6450 or dwightb@miovigneto.com
| Trade Show | Booth # | Information |
| --- | --- | --- |
| Category | Expires On | Details |
| --- | --- | --- |
Below is a partial list of wineries that purchased custom tanks to suit their wine making program. Please feel free to contact them.
Occasio Winery
John Kinney, Owner
2245 B South Vasco Road
Livermore, CA 94550
(925)371-1987 Automatic Pump-Over Fermentors
Oval White Wine Fermentors
Variable Capacity Tanks
Open Top Fermentors
Thomas Coyne Winery
51 E.Vallecitos Road 
Livermore, CA 94550 Various Closed Top Fermentors
Quarto Goomba's Winery
22860 James Monroe Hwy
Aldie, VA 20105 Closed Top Storage Tanks
Moretti Winery
5350 Old Sonoma Rd.
Napa, CA 94559 Open Top Fermentor
Windy Oaks Winery
Jim Schultze, Owner
380 Sweetwood Way
Corralitos, CA 95076
(831)786-9463 Open Top Fermentors
Las Positas College
Dave Everett, Professor of Viticulture & Enology 
3000 Campus Hill Drive
Livermore CA 94551 Variable Capacity Fermentors
Rodrigue Molyneaux Winery
Garry Molyneaux, Owner
3053 Marina Ave
Livermore CA 94550
(925) 443-1998 Variable Capacity Fermentor
Left Foot Charley Winery
Brian Ulbrich, Owner
806 Red Drive
Traverse City, MI 49684
(213) 955-0500 Oval White Wine Fermentors