Wine Industry Network (WIN) is THE Business Resource for the Wine Industry.
Winery and viticulture professionals use WIN, for free, to research products and services from premium industry suppliers, find contact and product information, and receive free supplier news, deals, and updates through the bi-weekly Link newsletter in one or more of the professional categories that best match your needs. Try out WIN and reap the benefits:
Easy to search and connect with suppliers
Find product information, videos, and resources
Free Link subscription with deals and supplier news
NOTE: We never sell or share subscriber information with third parties.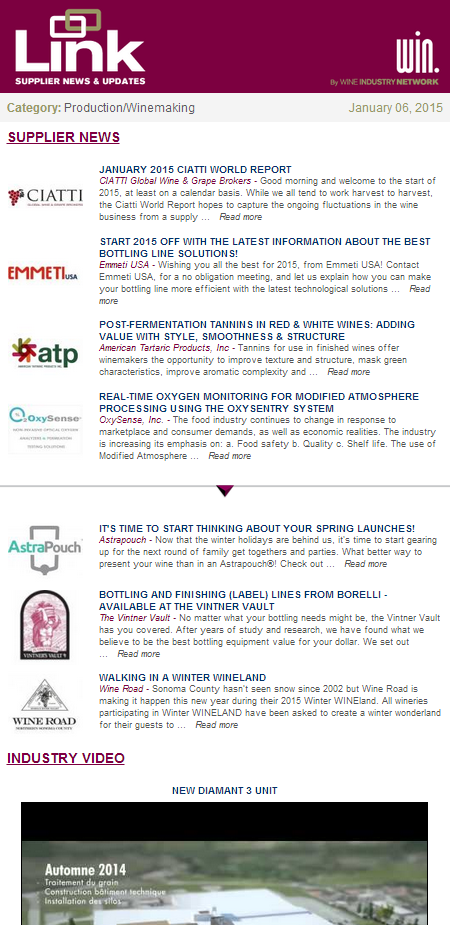 ---
Members experience the benefits of a cooperative marketing organization to attract buyers more effectively as a group than could be done individually. By leveraging traditional marketing strategies, social media, the power of the internet and an enormous database of industry contacts, WIN is the most cost effective and innovative marketing tool available to the North American wine industry suppliers and service professionals.
Marketing Features
Integrated Marketing - WIN leverages multiple channels to drive visibility: Internet, Targeted E-Mail Marketing, Google Ad Words, Social Media, Association Alliances and Traditional PR.
Member Profile Pages - Comprehensive, current and accurate
Email "LINK" Campaigns - Participate in bi-weekly newsletters sent to more than 20,000 subscribers
Multi-Media - Tell your story using videos, PDFs and pictures
Customer Referrals - Leverage your best customers to drive business through testimonials
Targeted & Measurable - Track the return on your direct marketing efforts through a variety of traffic reports: always current and accessible
Supplier Updates - WIN delivers your news directly to your target audience, bi-weekly
Member Service Manager - Each member is assigned a member service manager from the WIN team that helps with the profile and optimizing your marketing through WIN.
WIN-SCV Affiliate Program - WIN members receive a discount on their first Sonoma County Vintners Affiliate membership.
Profile example - VIN65
Membership Rates
For more information contact Dan Eliason at dan@wineindustrynetwork.com or call 707-433-2557 ext. 105
Additional Marketing Opportunities
WIN membership also gives suppliers access and/or discounts on a number of additional marketing programs that WIN offers. These include Expert Editorial opportunities with the Wine Industry Advisor, quality ad space on the Wine Industry Network and Wine Industry Advisor, Supplier Spotlights, and the North Coast Wine Industry Expo.